From
www.americanveteranscenter.org
website Dale and I bring you information on the return of "The National Memorial Day Parade" today. Follow the links below to watch and honor our military this Memorial Day! God Bless our Military, their families, and God Bless the USA!
~~~~~~~~~~~~~~~~~~~~~~~~~~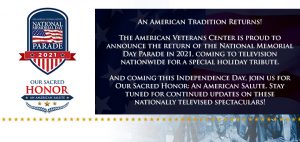 The National Memorial Day Parade returns in 2021! In a very special made for television event, the parade returns to Washington, DC – along with New York City, Philadelphia, New Orleans, Los Angeles, and cities and towns across the country – in a salute to the men and women who have sacrificed for our nation.
And for the first time, the American Veterans Center is proud to present a very special Independence Day television companion: Our Sacred Honor: An American Salute. Televised on ABC, CBS, NBC, Fox and CW stations nationwide, the National Memorial Day Parade and Our Sacred Honor commemorate the shared values of service and sacrifice that have brought us together throughout our history.
Due to continued protocols, the 2021 National Memorial Day Parade will be filmed for television only, and will not be open to the public. Please enjoy the show, and we look forward to the public's return to Constitution Avenue on Memorial Day, 2022!