Final week/weekend 3.18.21 on the ice.
<((><
"I stopped by, here is Andy M.'s 38. See you Saturday"
Brad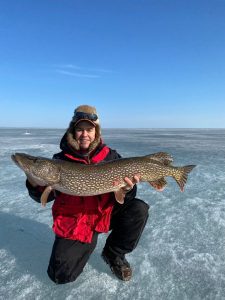 42.5" Todd P. from your Brad M. group- released
<((><
<((><
Bruce & Julie staying in the Sleeper fishing shallow and out on their wheeler!

<((><
<((><
A message from a group of guys who pulled out their wheel houses with their wheelers/side by sides and came off the ice to a campsite when Dale asked due to the ice deteriorating so fast over the weekend!! By Sunday it was time to close the winter lake access!!
"Dale and Connie,
Our fishing party are extremely satisfied with what you do and how you do it up there on lake of the woods. We were able to use your amazing bathroom that comes equipped with a shower and noticed your top of the line fish cleaning building. Much appreciated the no-nonsense way about your business and most importantly we caught some fish. See you next time.
We had 7 people and caught 22 walleyes and 4 sauger. We threw back at least 6 over 20″ and 40 under 13″."
<((><
<((><
Our Son, Justin, his young ones and a couple Buddies from Ely catching the final 3 days!
<((><
Nice text message from one of our winter camping guests saying farewell until next ice season!!  Thank you Nathan!
NATHAN: "Thank you for the fun winter, see you next fall😊"
<((><