HARBOR
We received an email (11.8.21) from Bemidji DNR:   5 "bullet points" requesting additional information on the construction of the Harbor.  I contacted Mike, our engineer, and we have started putting together the additional information for the committee.  We are in the 3rd week of the 30-day review process.  There is a possibility that the DNR may need an extension.  Fingers crossed this won't happen and we will have an answer in the next week or so.
2 NEW 10 x 18 SLEEPERS
Dale and Chris have headed to Roseau just as I am posting here to pick up the new carpet.  Stoves are here and ready to put in.  Propane lines and the hitches are completed.  Foam cushions are here from BuyFoam Co. Milwaukee, Wisc., just waiting for the cushion covers to be made from KB Specialties in Grey Eagle, MN.  PJ Signs has made a new #SIGN for the outside of the sleeper also from Grey Eagle, MN.  Huge Thank you to Fred, one of our friends and volunteer, that is bringing sleeper signs and cushion covers to us at the end of November. New Sleeper Bathrooms!  Next 2 new generator boxes!!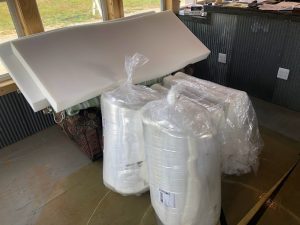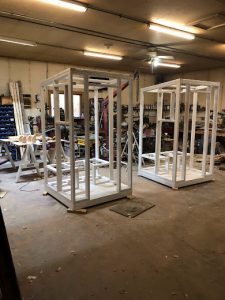 THE OTHER 9 SLEEPERS
New "toy boxes" are in all the sleepers.  All new wall calendars are in.  All the DVDs have been gone through, books, all the decks of cards have been counted, crayons all gone through and replaced, new chalk cups and chalk. Replaced the utensil holders from one to two so there is more room and easier access.  First aid kits have been gone through and filled up!!  The Sleepers have been cleaned, carpet shampooed, all the paper products stocked up and ready for ice season.  The windows that were cracked or broke in our sleepers have all been repaired or replaced by D & L Glass, Roseau, MN.  Huge THANK YOU to Kala for not only the cleaning of the sleepers when our guests have checked out but she tackled the Fall Sleeper Cleaning schedule getting them ready for winter!!  Priceless!!!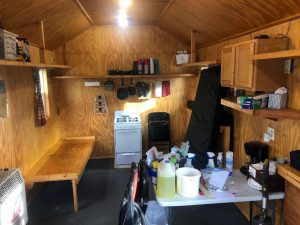 MAIN OFFICE
For those who may not have heard the news this past summer – WE NOW HAVE AN ATM MACHINE in our main office.  Today, 11/10/21, I am refinishing the floor with polyurethane over the next week.  Today is the first coat and have 1 – 2 more coats in the front half of the office and then move everything to the front and 2-3 layers in the back half of the office.  Got our new camping agreements back from the printer, Hub 70, River Falls, Wisconsin who also made our Lake of the Woods black and white maps we have in our Sleepers.
WINTER CAMPING
We are ready for our winter campers and we have 5 that have already come and set up for their winter camping Dec. 1 – Apr. 18th, 2022.  Thank you to Swift Electric, Richard has been working really hard to get the Electrical Pedestals done in our South campground, so all our winter campers will have electrical pedestals with 20, 30, and 50 amp service.   Our Winter Campers will now be able to keep their campers hooked up to electricity, run the heaters they want, to be able to enjoy the use of electricity without unplugging when they are back home.  North Star electric was able to get us our main power box that has been sitting on some truck somewhere for some time!!! North Star came out got our main power up and running and Richard, Swift Electric, was right there to get cracking on finishing the wiring.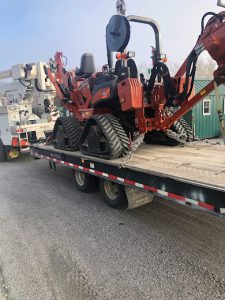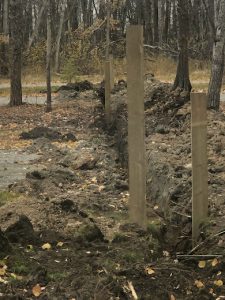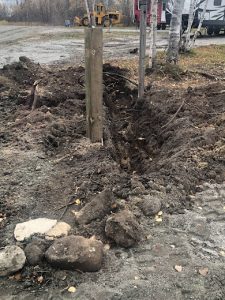 WINTER MEALS FOR THE TEAM AND FRIENDS!!
Dale bought us a new crockpot and I started making meals~ plan on filling the freezer with "crockpot" meals.  30 lbs of homemade BBQs!  Roast's, stew's, chili, soups!  I have our freezer over 3/4 of the way full, room for Naeomi's Sweets, Warroad, MN who will do all the baking for us.  Ordered bread, buns, pies, and biscotti!  More to come!  Dale and I plan on throwing a crockpot meal every day for our team!  Of course, if there is a visitor or two, we will have a bowl of Mmmm good for you too!  It gets cold out there on the ice and Dale and I want something warm to put in tummies this winter!!!  Fingers crossed all goes well with the crockpot meals and plenty of sweets to go around.