Well, we rescued our lakeside sitting areas. 
The Beach bar and Pergola's, unfortunately, were left lakeside!
So I made a new sitting area, and we still have the lake to look at since it has decided to come closer to the office
(probably not a very funny joke at this point in time)!!
"When life gives you lemons,
make lemonade"
I am guessing each evening this is where you will find us.
Come have a beverage with us!!
(More than likely not lemonade-just saying)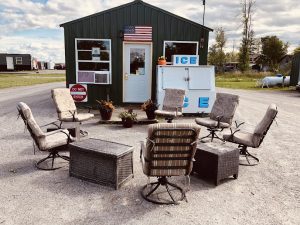 When life gives you lemons make lemonade – The phrase was initially coined by Christian anarchist writer Elbert Hubbard in a 1915